About Us
The journey started when H.E. Nasser Al Neyadi obtained one helicopter and a wind tunnel and began training. Then in 2010, with the honorable blessing of His Highness Sheikh Hamdan bin Mohammed bin Rashid Al Maktoum, Crown Prince of Dubai and Chairman of Dubai Executive Council, Dubai hosted its first international parachuting championship at the Palm Dropzone. Soon after the name Skydive Dubai was born, launched by H.E. Nasser Al Neyadi.

Skydive Dubai welcomes skydiving enthusiasts from across the UAE, and scores of tourists whose to-do list begins with an adrenaline-fueled tandem skydive. Not to forget the steady stream of licensed skydivers who also visit.

The brand is also known for its constant pursuit of excellence in aerial sports and holds multiple Guinness World Records to prove it.

Skydive Dubai operates out of two locations. The Palm DZ, its premium dropzone is located within the limits of the emirate, while the desert DZ is located about 35 km outside the city.

The main attraction at the Palm DZ is the spectacular view of the iconic Palm Jumeirah island. Customers can take in the stunning site as they soar at 13,000 ft with one of our many qualified tandem instructors.

Experienced skydivers looking for some freefall fun are also welcome and can avail of a full-service rigging loft and the gear rental facilities at the Palm DZ.

Over at the desert DZ, the tandem skydive experience has proved to be just as popular. After all, imagine sailing over expansive and mesmerizing sandy dunes at 13,000 ft? It's quite magnificent. But that's not all. Those interested in learning how to skydive solo can also do so at the dropzone.

If you're an experienced skydiver looking to add a new skill to your repertoire, the desert's flight school offers coaching on formation skydiving, freefly, canopy and wingsuit coaching.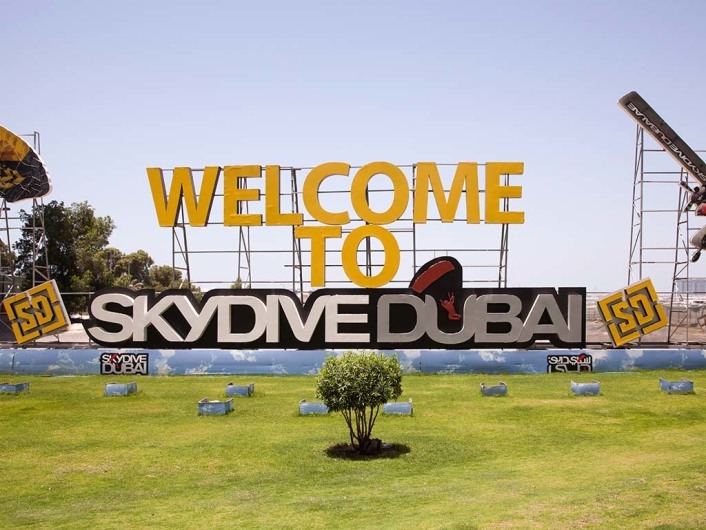 Tandem SkyDive
What is a tandem skydive?
A tandem skydive is the quickest and easiest way to experience the thrill of freefall at over 120 miles per hour, while securely harnessed to one of our experienced and accomplished instructors. Adrenaline enthusiasts can live this adventure at our two world-class locations, the Palm Dropzone and the Desert Dropzone.
Every customer who purchases a tandem package at either of our locations will receive a USB provided by us which contains photographs and our standard edited video of their experience. This can be collected from the on-site Shop, 45 minutes after you complete your skydive.
A tandem package at our premium location, the Palm Dropzone, costs a total of AED 2,199. Located within the city of Dubai, the highlight of a tandem experience here is the stunning view of the iconic Palm Jumeirah island from 13,000 ft. You can also purchase third-party insurance and pay to receive an Instagram-friendly video edit at this location on the day of your skydive.
Those who visit our Desert Dropzone, located about 35 km outside Dubai, will need to pay a total of AED 1,699 for a tandem package. This, our standard location, offers customers a skydive over Dubai's sandy dunes from 13,000 ft. A desert safari, if you will, like no other.
Those interested in a tandem experience at either location must meet all of our Requirements (below). If you do not meet all our requirements you will not be allowed to skydive and your deposit will not be refunded. We also suggest you read through the Important section (below) for information on how to prepare for your skydive and for what to expect on the day. For any other queries please contact our tandem reservation team directly.
We look forward to skydiving with you!
SCHOOL
Skydive Dubai's Desert Dropzone is one of the world's largest skydiving schools, featuring top-level instructors who use the latest training techniques to pass on their wisdom.
Being able to skydive on your own requires knowledge and skills which you learn during the AFF (Accelerated Freefall) course. For example, knowing what altitude to deploy your parachute, how to pack your own parachute, how to release the reserve in case of an emergency… It's your first step to being able to skydive solo.
1. Accelerated Freefall (AFF) first jump course
Accelerated Freefall (AFF) first jump course
This program comprises a day of ground school (theory), a minimum of seven skydives and 15 minutes of tunnel time. Skydive Dubai's Desert Dropzone offers theory classes in English every Friday, and in Arabic upon request. If you opt for the classes in English, we request that your speaking and comprehension levels be at least at an intermediate level.
During your ground school you will learn about equipment, safety procedures, canopy deployment and control, and the all-important landing, to name a few topics. Once successfully completed, students are ready for their first skydive.
Learning how to skydive is about progression. Each level of the AFF course consists of a fixed set of maneuvers that you must perform before you can move on to the next one. For the first three levels, you will be accompanied by two instructors. For the remaining levels, you will have just one instructor by your side.
Once you have completed ground school (theory), you will proceed to the indoor wind tunnel at Inflight Dubai where you will fly and practice the freefall position to prepare for your first skydive.
After that, you are an AFF graduate and are ready to perform your first solo skydive. You can then proceed to achieve the various levels of the license and specialize in various disciplines of the sport.
2. A license
The A license is the gateway that enables a relatively new skydiver to get involved in everything the sport has to offer. A USPA A license is an internationally recognized certification that allows the holder to jump at dropzones around the world and jump with other license holders.
Once you have USPA A license you may jump without supervision, pack your own main parachute and engage in group jumps.
To obtain a USPA A license, you must complete a minimum of 25 skydives, successfully pass all the requirements on the A license proficiency card and pass the written and oral A license exam.
3. Experienced
If you're a licensed skydiver who'd like to skydive at either of our locations please follow this link. If you'd like to learn about the advanced coaching courses we offer you may click here.